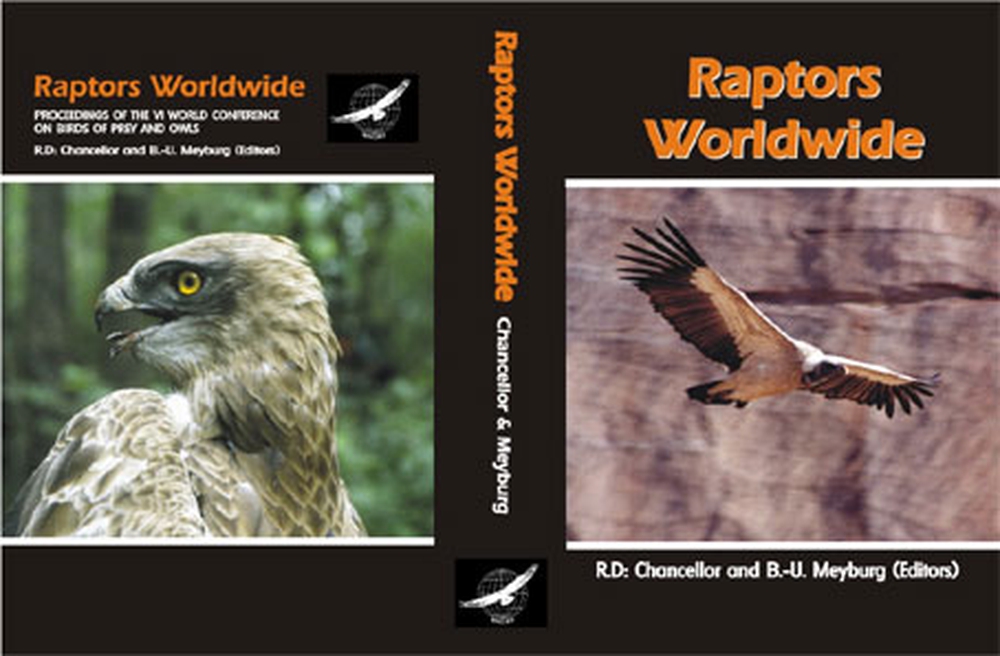 Raptors Worldwide. 2004. Proceedings of the 6th World Conference on Birds of Prey and Owls (Budapest, 2003)
Raptors Worldwide: Download of articles
Raptors Worldwide. 2004. Proceedings of the 6th World Conference on Birds of Prey and Owls. R. D. Chancellor, B.-U. Meyburg (eds.). 890 pp. ISBN 963-86418-1-9.
This copious volume of 890 pages forms the Proceedings of the 6th World Conference on Birds of Prey & Owls held in May 2003 in Budapest, Hungary. Outstanding amongst the 81 refereed original papers in English, presented by over 150 authors from all over the world, is an extensive section on vultures, severely threatened if not already extinct in many parts of their former range, comprising 12 papers on different Old and New World species and their conservation together with eight special studies providing a comprehensive picture of the recent catastrophic decline of species in the genus Gyps in Southern Asia, particularly India and Pakistan, the hitherto inexplicable cause of which was first revealed during this conference.
Other sections are devoted, among others, to such wide-ranging topics as Population Limitation, Taxonomy, Electrocutions, Raptor/Human Conflicts and Environmental Contaminants. Other special sections are devoted to Falcons and Eagles respectively, including accounts of the unrivalled conservation work carried out in Hungary on such endangered species as the Saker Falcon and Imperial Eagle, forming an object lesson for other countries. Many other papers present the most up to date state of research and conservation of different diurnal and nocturnal raptors worldwide.
Introduction
Bagyura J, Haraszthy L: The Status of Birds of Prey and Owls in Hungary, p 3–8.
Vulture studies
Part 1. Old & New World vultures
Cade TJ, Osborn SA: Commentary on Released California Condors Gymnogyps californianus in Arizona, p 11–25
Camina A: Consequences of Bovine Spongiform Encephalopathy (BSE) on breeding success and food availability in Spanish Vulture populations, p 27–44
Camina A: Griffon Vulture Gyps fulvus monitoring in Spain: current research and conservation projects, p 45–66
Iezekiel S, Bakaloudis DE: The Status and Conservation of Griffon Vulture Gyps fulvus in Cyprus, p 67–73
Mee A, Austin G: Courtship Behaviour in reintroduced California Condors: evidence for extra-pair copulations and female mate guarding, p 75–81
Piper SE: Proposed global Population-monitoring Scheme for the Cape Griffon Gyps coprotheres, p 83–92
Schlee MA, León RA: The King Vulture Sarcoramphus papa in El Salvador: an Endangered Species, p 93–109
Shobrak M: Parental Investment of Lappet-faced Vultures Torgos tracheliotos during breeding at the Mahazat as-Sayd Protected Area, Saudi Arabia, p 111–126
Terrasse M, Sarrazin F: A Success Story: The Reintroduction of Eurasian Griffon Gyps fulvus and Black Aegypius monachus Vultures to France, p 127–145
Tewes E, Terrasse M: Action Plan for the Recovery and Conservation of Vultures on the Balkan Peninsula: activities and projects during 2002 and 2003, p 147–175
Tewes E, Artés JJ: Status and Conservation of the European Black Vulture Aegypius monachus in Europe, p 177–184
Zink R: Alpine Monitoring of Bearded Vultures Gypaetus barbatus: preliminary data on dispersal, pair settlement and survival, p 185–195
Part 2. Vulture decline in Southern Asia
Risebrough RW: Population Collapses of Three Species of Gyps Vultures in the Indian Subcontinent: an overview, p 197–214
Baral HS, Giri JB: On the decline of Oriental White-backed Vultures Gyps bengalensis in lowland Nepal, p 215–219
Gilbert M, Oaks JL: The Status and Decline of Vultures in the provinces of Punjab and Sind, Pakistan; a 2003 update, p 221–234
Katzner T, Gavashelishvili A: Population and Conservation Status of Griffon Vultures in the former Soviet Union, p 235–240
Oaks JL, Meteyer CU: Diagnostic Investigation of Vulture Mortality: the Anti-Inflammatory Drug Diclofenac is associated with Visceral Gout, p 241–243
Prakash V, Pain DJ: Saving Asia's Gyps Vultures: the "Vulture Rescue" Team's Conservation Programme, p 245–255
Sarrazin F, Virani MZ: Preliminary Population Viability Analyses for Oriental White-Backed Vulture Gyps bengalensis in Punjab province, Pakistan, p 257–262
Virani MZ, Benson PC: A Survey of the Reproductive Activities at some Gyps Vulture Nests in Kanha, Bandhavgarh and Ranthambhore National Parks, India, in the 2002/2003 breeding season, p 263–268
Population limitation
Kirmse W: Tree-nesting Peregrines Falco p. peregrinus in Europe did not recover, p 271–277
Lohmus A: Raptor Habitat Studies – the state of the art, p 280–296
Nicoll MA, Jones CG: How Raptor Re-introductions can contribute to Understanding Population Regulation: the Mauritius Kestrel, a case study, p 297–305
Resolving raptor/human conflicts
Arroyo B, Redpath S: Conflicts in Raptor Conservation: an overview, p 307–315
Gutiérrez RJ: Science and the Conservation of the California Spotted Owl, p 317–327
Kenward RE: Management Tools for Raptor Conservation, p 329–339
Piper SE: Vulture Restaurants – Conflict in the midst of Plenty, p 341–349
Environment contaminants & raptors
Morrissey CA, Kardosi GV: Effect of Food Supply and Contaminants on Osprey Productivity in southern British Columbia, Canada, p 353–368
Henny CJ, Grove RA: An Evaluation of Osprey Eggs to Determine Spatial Residue Patterns and Effects of Contaminants along the Lower Columbia River, U.S.A., p 369–388
Richards NL, Mineau P: Exposure of the Eastern Screech-owl Otus asio to Organophosphorus Insecticides and Anticoagulant Rodenticides in Apple Orchards of Southern Quebec, Canada, p 389–409
Electrocutions
Acklen J, Bates Z: The BB Line – Evaluating the Role of Birds in Line Faults, p 411–416
Adamec M: Birds and Power Lines – status in the Slovak Republic, p 417–421 Download
Bagyura J, Szitta T: A Review of Measures taken against Bird Electrocution in Hungary, p 423–428
Harness RE: Bald Eagle Haliaeetus teucocephalus Electrocutions in Alaska and Florida – a comparison of retrofitting measures, p 429–435
Kruger R, Maritz A: Vulture Electrocutions on Vertically Configured medium voltage Structures in the Northern Cape Province South Africa, p 437–441
Stoychev S, Karafeizov T: Power line Design and Raptor Protection in Bulgaria, p 443–449
Taxonomy, phylogeography & molecular markers
Bechard MJ, Sarasola JH: Morphometric Measures of male and female Spot-winged Falconets Spiziapteryx circumcinctus sexed using PCR Amplification Methods, p 451–458
Ristow D, Witte L: Sex Determination of Nestlings in Eleonora's Falcon Falco eleonorae: plumage characteristics and molecular sexing, p 459–466
Scheider J, Wink M: Phylogeographic Relationships of the Black Kite Milvus migrans, p 467–472
Vaeli U, Treinys R: Genetic structure of Greater Aquila clanga and Lesser Spotted Lagle A. pomarina populations: Implications for phylogeography and conservation, p 473–482
Wink M, Sauer-Gürth H: Phylogenetic Relationships in Diurnal Raptors based on nucleotide sequences of mitochondrial and nuclear marker genes, p 483–498
Wink M, Sauer-Gürth H: Phylogenetic Relationships in the Hierofalco Complex ( Saker-, Gyr-, Lanner-, Laggar Falcon), p 499–504
Wink M, Sauer-Gürth H: Phylogeographic Relationships of the Lesser Kestrel Falco naumnanni in Breeding and Wintering Quarters, inferred from nucleotide sequences of the mitochondrial cytochrome b gene, p 505–510 Download not available
Wink M, Sauer-Gürth H: Phylogenetic Differentiation of the Osprey Pandion haliaetus inferred from nucleotide sequences of the mitochondrial cytochrome b gene, p 511–516
Wink M, Sauer-Gürth H: Phylogenetic Relationships in Owls based on nucleotide sequences of mitochondrial and nuclear marker genes, p 517–526
Eagle studies
Bank L, Deme T: Population changes of the White-tailed Lagle Haliaeetus albicilla in Hungary. with special attention to the lower Hungarian Danube-valley. 1987–2003, p 529–536
Bergmanis U: Analysis of breeding habitats of the Lesser Spotted Eagle Aquila pomarina in Latvia, p 537–550
Bragin E, Katzner T: Long-term Population trends and nesting success of Imperial Eagle, Golden Eagle and White-tailed Sea Eagle in North-West Kazakhstan in 1990–2002, p 551–556
Chou TC, Lee PF: Breeding Biology of the Crested Serpent Eagle Spilornis cheela hoya in Kenting National Park, Taiwan, p 557–568
Clark WS: Immature Plumages of the Eastern Imperial Eagle Aquila heliaca, p 569–574
Dombrovski VC: Use of Breeding Area by Immature Spotted Eagles Aquila pomarina and A. clanga in Belarus: different strategies, p 575–580
Iezekiel S, Bakaloudis DE: The diet of Bonelli's Eagle Hieraaetus fasciatus in Cyprus, p 581–587
Marin SA, Ivanov II: On the Food of the Imperial Eagle Aquila heliaca on Sakar Mountain and Dervent Heights, Bulgaria, p 589–592
Martínez JE, Cremades M: Diet of Booted Iiagles Hieraaetus pennalus in Southeastern Spain, p 593–599
Meyburg B-U, Langgemach T: The Situation of the Lesser Spotted Eagle Aquila pomarina in Germany: The need for an Action Plan and active Conservation, p 601–613
Meyburg B-U, Scheller W: Home range size. Habitat utilisation. Hunting and Time budgets of Lesser Spotted Eagles Aquila pomarina with regard to Disturbance and Landscape Fragmentation, p 615–635
Mrlík V: Nest Site Selection by the Eastern Imperial Eagle in the North-west part of its Range, p 637–643
Pegán I, Martínez JE: Nest Occupancy Patterns of Booted Eagles Hieraaetus pennatus in Southeastern Spain, p 645–652
Stoychev S, Ivanov I: Status of the Eastern Imperial Eagle Aquila heliaca in Bulgaria between 1994 and 2002, p 653–660
Falcon studies
Bagyura J, Szitta T: Population Trend of the Saker Falcon Falco cherrug in Hungary between 1980 and 2002, p 663–672
Bagyura J, Haraszthy L: Comparison of Saker Falcon Falco cherrug Prédation during and after the Breeding Period, p 673–677
Groombridge JJ, Nicoll MA: Associations of evolutionary & ecological distinctiveness amongst Indian Ocean kestrels, p 679–692
Moseikin V, Ellis DH: Ecological Aspects of Distribution for Saker Falcons Falco cherrug and Altai Gyrfalcons F. altaicus in the Russian Altai, p 693–703
Ristow D: On the insect diet of Eleonora's Falcon Falco eleonorae and its importance for coloniality, p 705–712
Ristow D: Sex. Age. and Evolution criteria to be derived from dark feather patterns in the Hobby & Red-footed falcon group, p 713–730
Vlachos C, Bakaloudis D: Status of the Lesser Kestrel Falco naumanni in Thessaly. Central Greece, p 731–736
Biology of owls
Bank L, Horváth G: Barn Owl Tyto alba Management and Monitoring in south-west Hungary, p 739–745
Eakle WL: Ecology and Conservation of the Palau Owl Pyrroglaux podarginus, p 747–754
Eakle WL: Effects of Clean Water Act Permits on the Cactus Ferruginous Owl Glaucidiuim brasilianum in Arizona, p 755–762
Motta-Junior JC, Bueno AA: Trophic Ecology of the Burrowing Owl in Southeast Brazil, p 763–775
Motta-Junior JC, Alho CJ: Food habits of the Striped Owl Asio clamator in South-East Brazil, p 777–784
General raptor studies
Baudvin H: Motorway Mortality of Birds of Prey and Owls in the East of France, p 787–793
Clark WS: Wave Moult of the Primaries in Accipitrid raptors, and its use in ageing immatures, p 795–804
Cresswell W: Kleptoparasitism rates and Aggressive Interactions between Raptors, p 805–814 Download not available
Domahidi Z, Zeitz R: Raptor Migration as a Conservation Opportunity: First Full-season Migration Counts in South-east Romania, p 815–822
Fáter I, Tóth L: Protection of Montagu's Harrier Circus pygargus on the Heves-Borsod Plain with special attention to nesting on agricultural habitats, p 823–828
Kitowski I: Observations on the behaviour of male Montagu's Harriers Circus pygargus at communal roosts during the post-fledging period: a case study, p 829–834
Santana FR: The order FaIconiformes in Cuba: status, distribution, migration and conservation, p 835–844
Wiacek J: Sky-dancing as an Honest Criterion of Mate Choice in Montagu's Harrier Circus pygargus, p 845–848
Xirouchakis S: Causes of Raptor Mortality in Crete, p 849–860
---
Leave a
Comment
In order to leave a comment, you need to log in!