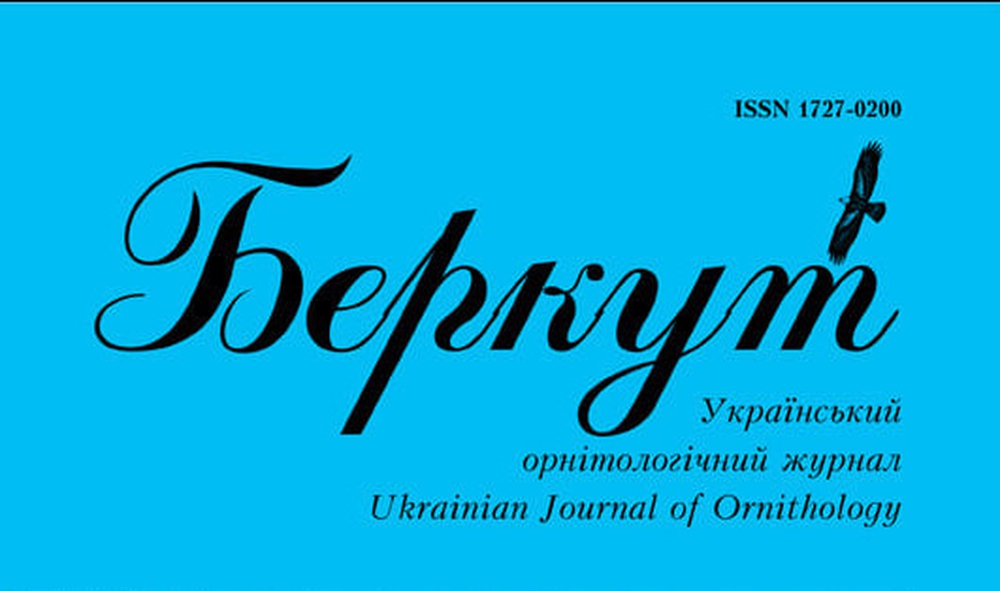 Current issue of the Berkut journal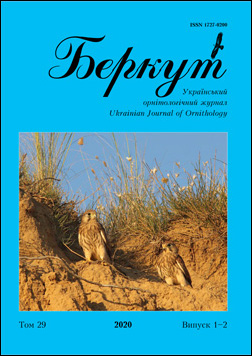 Contents
Fauna and communities
Andryushchenko Yu.O., Diadicheva E.A. Composition of the recent avifauna of the dry-steppe zone of Ukraine.
Redinov K.A., Panchenko P.S., Formanyuk O.A. Ornithofauna of the Volodymyrivska Dacha Reservation and its surroundings (Mykolayiv region) in breeding period.
Kostiushyn V.A. Wetland bird species of the Protoka river ponds (Kyiv region).
Kostiushyn V.A., Grishchenko V.N., Yablonovska-Grishchenko E.D. New data about distribution of rare and insufficiently known bird species on the North-East of Ukraine.
Kopij G. Population densities and community structure of birds in a Kalahari woodland transformed to a farmland, NE Namibia.
Ecology
Dobrynskyi O.V. The first cases of Whooper Swan (Cygnus cygnus) breeding in Rivne region, West Ukraine.
Grygorchuk A.A., Drebet M.V., Martyniuk V.Ju. Breeding of the Alpine Swift (Tachymarptis melba) in the town of Kosiv (Ivano-Frankivsk region, West Ukraine).
Migrations
Grishchenko V.N. Migrations and summer movements of the White Stork (Ciconia ciconia) in Ukraine in 2020.
Short communications
Gavrilyuk M.N., Omer T.S., Sheremet O.O., Kazannyk V.V., Prychepa M.V., Sapuha O.M., Snitsar O.V. Registration of a vargant Imperial Eagle (Aquila heliaca) in Cherkasy region.
Domashevsky S.V., Vetrov V.V. Discovery of the largest communal roost of wintering Hen Harriers (Circus cyaneus) in Ukraine.
Prokopenko S.P. Observations of Rooks (Corvus corax) movements in the Far East of Russia.
Pylypiuk K.I. Observation of the Hume's Leaf-warbler (Phylloscopus humei) in the town of Chornomorsk (Odesa region, South Ukraine).
Jubilees
A.I. Koshelev (to 70th anniversary).
Notes
Dementieieva Ya.Yu. Some morphological anomalies in birds in conditions of waste land­fills of Kharkiv city.
---
Source: Vitaly Grishchenko's post.
The journal website: http://www.aetos.kiev.ua/english.htm.
Leave a
Comment
In order to leave a comment, you need to log in!