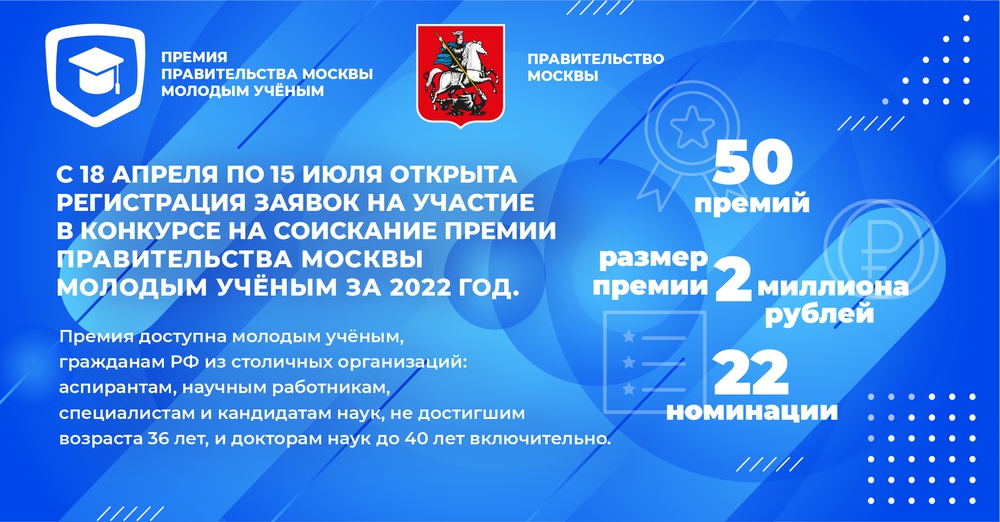 Moscow government award 2022 for young scientists
From April 18 to July 15, 2022, registration of applications for the competition for the Moscow Government Prize for Young Scientists for 2022 is open.
The winners are awarded prizes in the amount of 2 million rubles each, as well as diplomas of laureates.
To participate in the competition, you must register on the official website of the Competition, fill in the necessary data in your personal account, upload files.
More information about the materials to be submitted can be found in the "Documents" section of the website.
The award is available to young scientists from metropolitan organizations, citizens of the Russian Federation: graduate students, researchers, specialists and candidates of science who have not reached the age of 36, and doctors of science up to 40 years old inclusive. The application can be submitted individually or as part of a group of up to 3 people. In the case of awarding a prize to a scientific team, the prize is divided equally among the members of this team.
Prizes are awarded:
for achieving outstanding results in fundamental and applied scientific research in the field of natural, technical and human sciences;
for the development and implementation of new technologies, machinery, instruments, equipment, materials and substances that contribute to improving the efficiency of activities in the real sector of the economy and the social sphere of the city of Moscow.
Prizes are awarded in 22 nominations.
Research nominations
Mathematics, mechanics and computer science
Physics and astronomy
Chemistry and Materials Sciences

Biology

Medical sciences
Earth sciences
Social Sciences
Humanitarian sciences
Information and Communication Technologies
Technical and engineering sciences
Science to the metropolis
Development nominations
Aviation and space technology
City infrastructure
Biotechnology
Pharmaceuticals, medical equipment and supplies
New materials and nanotechnologies
Advanced Industrial Technology
Transfer, storage, processing, protection of information
Instrumentation
Ecological development technologies
Electronics and communications
Energy efficiency and energy saving
More information about the Competition can be found on the official website nauka.mos.ru.
Leave a
Comment
In order to leave a comment, you need to log in!